Description
The comfort of a full-sized knife in an everyday carry size.
Machined from stainless steel, the handles on the Slinger are only 3" long but have an intuitive, ergonomic design to give you a firm grasp making it feel as if you're holding a full-sized knife handle.
**All pieces ordered now come with the improved deep-carry pocketclip!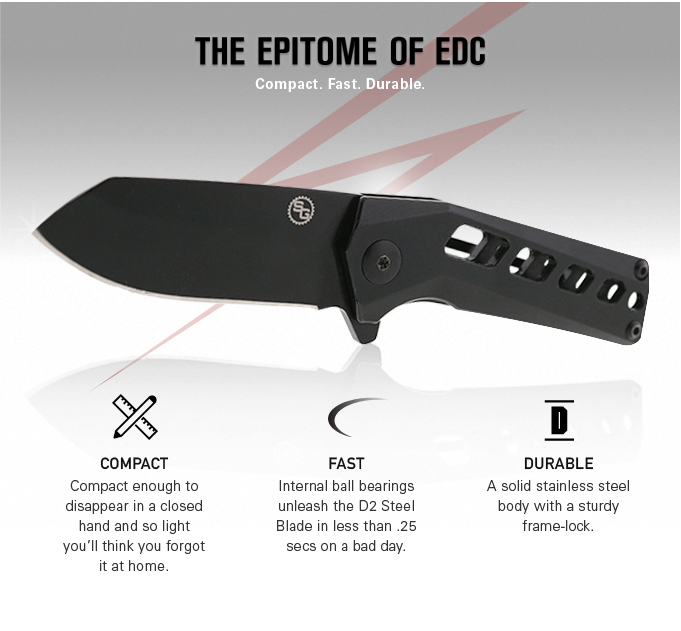 View All
Close
22 Reviews
This knife is really great if you're looking for a compact EDC knife. It's lightweight and small enough to fit in any pocket comfortably but hefty enough to handle any task that I've needed it for so far. The blade flips really well and has no wiggle to it. The deep carry clip is secure and discreet but is limited to tip down carry only. That is my only complaint about the knife, I find tip up carry far more accessible.

I bought this knife for EDC tasks and have used it hard. It has held up well and after I put my own edge on it I haven't had to sharpen it for the several weeks I have had it. I rated it high because it is a solid knife and feels good in hand. The partial serrated blade makes it versatile. The action on it is a little sticky, but for a knife in this price range you get good bang for your buck.

I liked it so much I bought another one to keep in my vehicle.

i purchased the black version of the slinger knife by sg. five stars for the blade. d2 steel comes very sharp out of the box. 3 stars for the rest, to be kind. the light weight handle is very nice, and finish seems good on both blade and handle. both pluses. clip is a little big for such a small knife. minor negative as you can take it off. but those aren't worth a ding, what is is that the flipper action is not good. internal ball bearings? really? flipper goes generally to about a 90 degree angle, with 1 in 10 going to full open. closing is also stiff. hard to do it with one hand. not sure if this is inherent to the black knife or not. i've flipped and closed this over 200 times and hit the bearings with oil. action is still stiff, not as advertised. don't get me wrong, it is a good knife, good blade, and sits solid (no wiggle) when open. and i'd rather have it stiff and solid when open then have better action and wiggle when open. just expected both. ymmv.

This Thing Just Won't Quit!

I got my Slinger back in its Kickstarter campaign, and I've carried it almost daily ever since. It's still the smoothest-opening knife I've ever owned. Despite thousands of openings and closings, it has yet to show any friction in the hinge. Nor is there any wobble in the body or pocket clip from backed-out screws. The liner-lock is still rock-solid and the blade still cuts like a champ with only minimal upkeep. I honestly can't see myself carrying anything else.

love it great knife. came fast. honestly I was surprised to see made in china. because was high priced $50 if normal price??with code was $25 But love it very sharp small light weight. \

Easy company to deal with, and the best mini sword ever. Will definitely buy again from statgear.

A very solid small knife. Can get most basic jobs done. Feels really good in the hands I get a full three finger grip. Razor sharp.

I have several of these with my name engraved on them. I really like their small size and ease of handling. Some have a little stiffer action than others, but it is something I can live. The part that sticks out and allows it to "sling" open also blocks the knife from closing all the way when I go to close it. A really nice safety feature as I have seen at least one person who almost removed his fingers when closing his knife.
Highly recommended!

Slinger is great little blade

I'll admit I bought this just because the air force colors it has. But it's a great little flipper. Well balanced, nice looking, good quality for the price. Took the pocket clip off immediately as it is gigantic for such a small blade. Larger pocket clip than almost all my 3 - 4 inch folders somehow. So I just put in pocket as an extra gentleman's blade, you wont notice it hanging out with your keys. And the blade does have some play, wiggles when open, but cuts amazingly well for the size. They got the belly of the blade and balance just right. I'd definitely recommend this as a small knife with a lot of usefulness and great price point, but dont be a fool and make sure you pick up the air force blue and gold version!

Hopefully perfect knife from the perfect company

I have just received the Slinger, haven't seen it yet, maby a little bit(it's a wedding gift from my wife ). I was upgraded in shipping(to Denmark ) to make sure it came before the wedding, so thank you statgear I will drop a review on the knife once I try I.
View All
Close