Posted by Staff on 19th Apr 2023
Survival is a critical skill to possess when you are out in the wild. Whether you are out on a camping trip, hunting, or trekking through the wilderness, having the right gear with you can make all the difference in an emergency. A survival knife is an essential item that should be in every outdoor enthusiast's gear kit. In this blog post, we will discuss why a survival knife is so important and how it can help you survive in the outdoors.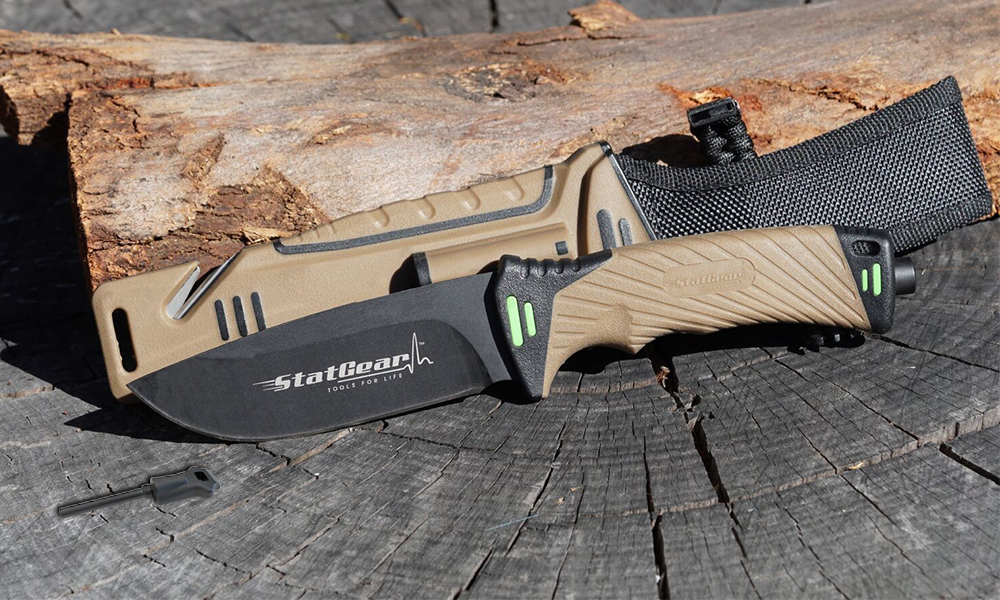 What Is a Survival Knife?
A survival knife is an essential piece of outdoor gear for anyone who enjoys camping, hiking, or other outdoor activities. It is a multi-purpose tool that can be used in a wide variety of situations, from building shelter to defending yourself. Unlike traditional knives, a survival knife is designed to be both lightweight and durable, as well as highly effective for tasks such as slicing, cutting, and chopping. In addition, many survival knives also feature additional tactical features such as a saw blade, fire starter, screwdriver, or sheath for easy carrying. With its combination of strength, versatility, and portability, a survival knife is an invaluable part of any outdoor enthusiast's kit.
The Benefits of Having a Survival Knife
A survival knife is an essential piece of equipment for anyone venturing into the outdoors. Whether you're going on a camping trip, a day hike, or a more intensive trek, having a quality, tactical survival knife in your gear kit is an invaluable asset. For starters, a survival knife can come in handy for cutting branches, slicing ropes, and cutting through thick brush and foliage. It can also be used to carve stakes, hammer pegs, and sharpen sticks. In more dire circumstances, it can be used as a makeshift weapon if needed. No matter the situation, it's important to have a reliable knife with you at all times. Beyond its practical uses, a survival knife has great value as a source of comfort and safety. Knowing that you have the right tool on hand in case of an emergency gives you peace of mind. The right knife can provide both psychological and physical protection while out on the trail. There are many types of survival knives available, from basic fixed-blade models to more advanced folding knives with multiple blades. When selecting a knife for outdoor activities, look for one that is sturdy and well-balanced, with a good ergonomic handle for comfortable use. Be sure to check local laws and regulations regarding knives before making a purchase. When heading out on your next outdoor adventure, make sure to pack a quality tactical survival knife. It will provide many benefits and will give you the confidence you need when facing unexpected challenges in the wilderness.
How to Choose the Right Survival Knife
When it comes to choosing a survival knife, it's important to pick one that is up to the task and will help you in any situation you may find yourself in. For example, the Surviv-All Survival Knife from StatGear is an excellent choice for a quality survival knife. This knife has many features that make it ideal for the outdoors. The Surviv-All Survival Knife features a full tang, drop point 440 stainless steel blade that is black powder coated and razor sharp. The rubber-textured handle provides a comfortable and secure grip with a heavy-duty belt sheath for convenient carrying. This knife also has additional features such as an integrated fire starter and glass breaker. The fire starter is made from magnesium alloy and can be used to start fires in any condition. The glass breaker is made from tungsten steel and is perfect for breaking windows in an emergency situation. Overall, the Surviv-All Survival Knife from StatGear is a great choice for anyone looking for a reliable, high-quality survival knife. It has all the features you need to ensure you are ready for any outdoor situation. Whether you're camping, hunting, or just want a reliable knife for your bug-out bag, the Surviv-All is a great option.